2020
MARCH
MIXED RESULTS FOR OUR TEAMS
16.03.20
The Under 15s had a good win against Upton U15s 32-18 on Sunday in their first game of the season in Division Three. The Under 14s lost out to Milford in a tough match 6-60; the Under 13s lost out to 3rd place West Bowling 16-32 and the Under 12s travelled to Lindley Swifts, losing out 42-12.

CURTAIN RAISER FOR OUR JUNIORS ON FRIDAY'S WAKEFIELD TRINITY CUP GAME
16.03.20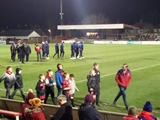 Well done to our junior boys who played in the pre-match tournament at Belle Vue on Friday night before the Challenge Cup game against Bradford Bulls. As always our juniors did the club proud!
THIS WEEKEND'S FIXTURES
11.03.20
The Under 15s begin their season with a home fixture against Upton Under 15s on Sunday 15th March; the Under 14s will be away at Milford also on Sunday. The Under 13s will travel to West Bowling on Saturday 14th and the Under 12s also play on Saturday and will be at home to Lindley Swifts U12s. Out junior teams will be busy as well with the Under 11s playing at Crigglestone All Blacks U11s; the Under 10s are also away at Newsome Panthers Juniors U10s; the under 9s are playing on Sunday 15th at home against Silsden U9s; the Under 8s are away at Dearne Valley Bulldogs U8s also on Sunday and finally our Under 7s will have a home game against Newsome Panthers Juniors U7s. Good luck to all our teams!
MIXED RESULTS LAST WEEKEND
11.03.20
The Under 12s had a good win against Whinmoor Warriors on the 7th beating them 22-18 in a closely-fought game. In other matches the Under 14s lost out to Silsden Storm 6-52, whilst the Under 13s lost out to Dewsbury Celtic 14-24.
THIS WEEKEND'S GAMES
06.03.20
This Saturday - 7th March - our first game at home is the Under 13s who take on Dewsbury Celtic U13s, kick off at 10.30am. Then at 11.30am the Under 11s play at home against Sharlston Rovers U11s. The only game on Sunday is the 11.30am match between the Under 14s at home to Silsden Storm U14s.

WEATHER AFFECTS START OF THE SEASON
04.03.20
Only one of our teams managed to play at the weekend, owing to the bad weather. The Under 12s began their season in Division Five with a home game against Hunslet Club Parkside U12s. In a free flowing game they were beaten 16-50 but played with great enthusiasm and commitment.
More...

This coming weekend, on Saturday 7th March, the Under 13s are at home to Dewsbury Celtic and the Under 12s are travelling to Whinmoor Warriors. On Sunday 8th March, the Under 14s will be at home to Silsden Storm.

FEBRUARY
NEW SEASON STARTS THIS WEEKEND
29.02.20

The season starts this weekend for our junior and youth teams. Today the Under 12s will be playing at home against Hunslet Parkside Under 12s at the pitch at the club. The referee has stated that this game can go ahead. On Sunday the Under 14s will travel to take on the Fryston Warriors Juniors, kick off 10.30am.

The younger teams will begin their season later in March.

Good luck to all our teams!

BIG WIN FOR THE UNDER 13s
29.02.20
The Under 13s had a great win beating Normanton Knights 66-0 in the Wakefield District Cup. The Under 15s game against Upton was postponed.
WAKEFIELD DISTRICT CUP GAMES THIS SUNDAY
22.02.20

It's a busy day this Sunday - 23rd February - with two home games for our junior teams in the Wakefield District Cup. At 10.30 the Under 13s take on neighbours Normanton Knights Under 13s and then at 11.30 it's kick off time for our Under 15s against Upton Under 15s. Come on down to Lee Moor and give the lads your support!

The season for the junior teams will begin next weekend and the younger teams will start again in March.
COACHING STAFF WANTED FOR UNDER 16S TEAM
18.02.20

Stanley Rangers are looking to recruit a Level 2 coaching and team manager for the already established Under 16s team. If coaching badge needs updating or obtaining we can also negotiate this. We are also looking for new players for the team - School year 11 - to add to the team. Training is on Tuesday and Thursday evenings at Stanley Sports and Social Club. For more information please contact Stanleyrangers1919@outlook.com

The Under 16s are a keen and dedicated team who will be pleased to have new players so why not come along and try out?
JANUARY
100 CLUB NOW FINISHED
12.01.20
Stanley Rangers 100 Club has now closed so any members should make sure they have cancelled any standing orders or direct debits.
UNDER 13S LOSE OUT TO HUNSLET
08.01.20
The Under 13s played at home against Hunslet Club Parkside in the quarter final of the BARLA Yorkshire Supplementary Cup and lost by the narrowest of margins 10-16.
UNDER 13s CUP MATCH
04.01.20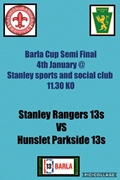 Happy New Year everyone and we kick off with the Under 13s taking on Hunslet Club Parkside Under 13s in the quarter final of the BARLA Supplementary Cup, kicking off at 11.30am on Saturdsy 4th January at Lee Moor. Your support would be really appreciated by the team so please come along and give the lads a cheer!