2020
HAPPY CHRISTMAS TO YOU ALL!
22.12.20


2020 has been a difficult year for all community clubs, not just in rugby league but all sports, but Stanley Rangers has worked hard to keep our players safe and keeping fit throughout the lmonths. Thanks to all the coaches, parents, supporters and teams for all their efforts.
Wishing everyone a happy Christmas and a better New Year in 2021.
EX-STANLEY RANGERS ADAM MILNER TO GET TESTIMONIAL
22.12.20
Castleford Tigers' Adam Milner has been granted a testimonial for the 2021 season following over a decade of service to the club. Sitting second in Castleford's Super League appearances chart, Adam Milner made his debut in 2010 and has gone on to feature over 250 times for the Tigers, only captain Michael Shenton has played in more top-flight matches.The 28-year-old is a product of Castleford's Academy and since making his debut he has only played his domestic rugby with the Tigers, making him one of the club's well-regarded as a one-man club. In that time, he has become a key man in Daryl Powell's squad, lifted the League Leaders' Shield and played internationally for England three times. Adam played for Stanley Rangers until he joined the Academy at Castleford and has been a great supporter of our club.

TRAINING TO RESTART IN JANUARY
09.12.20
Stanley Rangers won't be training over December as we have decided to take on board the advice of the RFL and have a break, so hopefully come January time the competitive ages will be able to take part in some friendlies ,then the league starts fully come April 2021.
RFL COMMUNITY RUGBY - A DIFFICULT YEAR
09.12.20

The RFL Community news posted this excellent video by

Shawn Boatin to show the resilience of community clubs in such a difficult year. The link also gives the text of a speech made by Marc Lovering, the RFL's Director of Participation and Development, reflected at a meeting of the Rugby League Council on a year of unprecedented challenges for the community game:



https://www.rugby-league.com/article/57466/the-greatest-game-lives-on
NOVEMBER
MARATHON FUNDRAISING ON SUNDAY
19.11.20
On Sunday, Danny Grice, coach of the Under 7s, along with Chris and Dani Molyneux, will be walking from York to Stanley Rangers to raise funds for some much-needed equipment for our junior teams and provide rugby league opportunities for the community.
The link to the just giving page is:
https://www.justgiving.com/crowdfunding/StanleyRangersJ?utm_term=qpxBGgGNx

LOCKDOWN 2 UNTIL DECEMBER 2
18.11.20
We're nearly two weeks through the 2nd Lockdown and will not know if community games will be able to resume after December 2nd. More information will be posted here as it becomes available.
Here is the RFL's official statement:
New Covid-19 restrictions come into force nationwide from Thursday 5 November. This means that all Community Game activity* will be suspended until at least Wednesday 2 December.
*For the avoidance of doubt this includes:
Adult Open age: Men's & Women's
Youth & Junior RL: Boys' & Girls'
Inclusive RL formats: Physical Disability RL; Learning Disability RL & Wheelchair RL
Social formats: Masters RL, Touch RL, Try Tag Rugby & X-League.
If the lockdown is lifted on 2 December, existing social RL activities that have been formally notified to the RFL will then be reviewed to allow planning for a safe and Covid-19 secure resumption.
Assuming we also then revert back to the government's tiered alert levels (1, 2 or 3 depending on geography), the RFL's Action Plan states that no Stage 4 training or match activity should take place during December.
Our aim is to ensure that Community Rugby League activity recommences in January 2021, with the return of formal competitions scheduled for April as we build up to the Rugby League World Cup.
To help clubs keep all players, and especially younger ones, active and connected to their clubs, 'Virtual Club' activities will again be freely available online. These include physical activity sessions and mental wellbeing resources. Further information can be found on the RFL website HERE.
Our Participation and Development team will continue to support community clubs directly with club sustainability work, such as ensuring that clubs can access grant funding and any other support available. If you have any questions on grant funding, please email National Clubs Manager John McMullen: John.McMullen@rfl.uk.com
We would like to thank everyone across the community game – volunteers, club and league administrators, players, coaches, match officials, foundations, parents and carers – for their considerable efforts during recent months. Although the time has been short, the effort has been worth it for those moments of joy returning to players' faces.
However, it is vital to note, we have only got this far due to this outstanding commitment and compliance of clubs following the government approved guidelines. It is now as important as ever to make sure we adhere and follow the new government guidelines. So once better days return, we can start again in earnest to make 2021 a significant year.

The RFL remains in dialogue with the DCMS, leagues and competitions and will provide further clarification for 'non-elite' rugby league in England following the debate in the House of Commons tomorrow in due course.
The UK Government has confirmed that school sport can continue as an exemption during this period; schools are advised to follow the guidelines shared by the Education team. "
OCTOBER
OUR TEAMS ENJOYING BACK TO PLAYING!
27.10.20
At the weekend our Under 12s and Under 13s enjoyed playing their first games in seven months. Thanks go to all the hard work of all the players, coaches, parents, volunteers and match officials. This coming weekend our Under 7s, Under 8s and Under 11s will be taking to the pitch to enjoy their rugby. Good luck to everyone.
CHANGE TO FIXTURE LISTING FOR JUNIOR AND YOUTH TEAMS
22.10.20
Youth and junior friendly games took place last weekend with the RFL's "Return to action" plan, while Open Age pilot matches which are also friendlies, are due to commence (subject to any changes) on 31 October. However, at the request of a number of grassroot clubs the RFL has decided not to publish fixtures, in light of concerns over possible numbers of spectators exceeding ongoing Covid-19 social distancing requirements. This means that our website will not be listing future games but will of course report any news and match reports. Good luck to all our teams and enjoy your rugby!
More...
OPEN AGE TASTER SESSION 3
20.10.20
We've had an incredible response to our first two taster sessions with a total of 22 different players already down training and a further 15 expressing interest. As we continue our pre-Xmas trianing sessions, we're still looking for new and old faces to come down and take a look at the new Open Age setup. Training is this Saturday 24th October at 9.30am.

NOTE: This week we will be training at Lime Pit Lane Field (WF3 4PG) and not at the Clubhouse.
JUNIOR FIXTURES BEGIN AGAIN
18.10.20
After seven months, our youth and junior teams are finally able to take to the field again and play. There has been a lot of hard work and preparation to make this possible and it is thanks to all the clubs, coaches, players, parents and support that it has happened. This weekend, on Saturday 17th October, the Under 11s travelled to Dearne Valley Bulldogs and on Sunday 18th October the Under 8s went to Newsome Panthers and the Under 7s visited Moldgreen. These games are being classed as friendlies and as more clubs apply for fixtures the RFL will amend the different age groups dates.
NEXT TRAINING DATE FOR THE OPEN AGE
11.10.20

The first pre-Xmas training session for the Open Age team on Saturday -10th October - saw old and new faces at the club. The next session will be on Saturday 17th October at 9.30am at the clubhouse. Everyone is welcome. If you have any questions please contact Liam on 07814111385. Remember that you must do this for track and tracing.

NEW PHOTO IN THE CLUB HISTORY PAGE
11.10.20


The history of Stanley Rangers is wrriien about in the History section of the website and now includes this great photo of the Open Age team, under coach Dean Sampson, in the 1998-1999 seasib when they won the Wakefield Cup final, beating Sharlston Rovers.
The team names are listed with this photo but if you can add any or need any changing please email the website on stanleyrangers@aol.com .
RANGERS OPEN AGE ARE BACK!
05.10.20

Stanley Rangers Open Age will enter the Yorkshire Men's League for 2021.We plan to hold a few taster sessions before Christmas. Training starts next Saturday (10th October) at the Club at 9.30am.

Please note that for test and trace, you must get in contact with Liam on 07814111385 if you want to attend.;
#OhWhenTheReds #RangersAreBack

SEPTEMBER
TEAM TRAINING IS GOING WELL
22.09.20
This week we have all age groups taking part - from the under 7s upto the under 15s - and we even have a Masters team now founded by ex-Stanley Rangers player Richard Cattley.. The club have been so pleased at how the teams have settled in to the new guidelines and enjoyed training in a safe way.

The RFL are having a review on the 21st September with a view to starting games on the 11th October. These will be localised and not run as competitive/league fixtures instead being classed more as friendlies. More information will be posted as it becomes available.

Here are the latest guidelines from the RFL:
CALLING ALL FORMER STANLEY PLAYERS - COME AND JOIN THE MASTERS!
19.09.20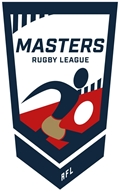 Wednesday night saw the first 'training' session for our newly formed Masters team. It was great to see so many old faces back at the club enjoying been back out on the field with the lads! Thanks to Paul Field for coming and explaining the rules and ethos of Masters and also thanks to Richard Cattley for taking the lead and organising getting the team up and running.

If you're over 35 and want to give Masters a go contact us for more information - stanleyrangers@aol.com or Stanleyranger1919@outlook.com
RANGERS WANT NEW PLAYERS!
15.09.20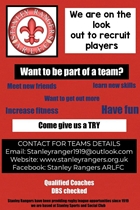 Stanley Rangers ARLFC are looking for new players. Now our teams are back to train our age groups go from the Under 9s to the Under4 15s. Our qualified coaches are DBS checked and our club has a long tradition of helping players learn new skills and make new friends. We are based at the Stanley Sports and Social Club in Lee Moor.

You can contact the club by email for more details:
Stanleyranger1919@outlook.com
NEW TRAINING SESSIONS FOR SEPTEMBER
15.09.20
Stanley Rangers has been carefully following the RFL's guidelines for returning players to training and hopefully games. The training times are shown on this poster and as you can see from the Under 9s upwards our teams are back to training.
The RFL's plan for a phased return to Community Rugby League, developed in partnership with community game stakeholders, has now been approved by DCMS (The Department for Digital, Culture, Media and Sport). The phased return is careful and incremental, and includes the following milestones*
Week commencing 10 August: Larger group non-contact 'opposed' activity including Touch and Tag RL
Week commencing 31 August: The RFL will conduct a review of current activity ahead of the proposed return to contact Rugby League training during September
ONE YEAR AGO - OUR CENTENARY CELEBRATIONS!
15.09.20

A year ago Stanley Rangers celebrated our Centenary season with what else -a game of rugby. On a sunny Saturday afternoon at Lee Moor, Stanley Rangers took on the Rugby League All Stars team. Present at the match were Paul Sculthorpe, Adrian Morley, Lee Radford, Kirk Yeaman, Dean Sampson and Darren Rogers.
The game involved past players and current coaches coming together to remember the good old times and the current players got involved with stalls and being mascots. Money raised through sponsorship and on the day was for The Life for a Kid charity. It was great to see many generations of Rangers all in one place paying tribute to the great sport that is Rugby League and our landmark birthday.
Keep your eyes peeled and ears to the ground as rumour has it we will be seeing a Masters Team in the not so distant future.
AUGUST
RETURN TO COMMUNITY RUGBY LEAGUE ACTION PLAN RECEIVES GOVERNMENT SIGN-OFF
13.08.20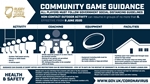 The RFL's plan for a phased return to Community Rugby League, developed in partnership with community game stakeholders, has now been approved by DCMS (The Department for Digital, Culture, Media and Sport). The phased return is careful and incremental, and includes the following milestones*
Week commencing 10 August: Larger group non-contact 'opposed' activity including Touch and Tag RL
Week commencing 31 August: The RFL will conduct a review of current activity ahead of the proposed return to contact Rugby League training during September
October – Local friendly matches – contact Rugby League with some rule amendments including the removal of scrums
28 November: Community Rugby League 2020 season ends
1 January 2021: League planning for 2021 season including possible return of local and National Cups
1 March 2021: The return of Community Game Leagues
All the detailed guidance for clubs will be shared directly with contacts on Monday 10 August and will be published on rugby-league.com.
Stanley Rangers will continue to safely and carefully assess all the guidance given and will continue to run small group activity sessions.
*All milestones remain subject to amendment should the national public health situation change.
CAREFUL RETURN FOR STANLEY'S TEAMS
05.08.20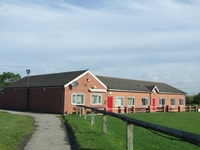 Stanley Rangers continue to carefully begin group activities with the youth and junior teams in line with the RFL and Government guidelines. The latest team to have a group activity was the Under 12s. Coach Mark Talbot explained that the team had its first non-contact training session with two groups of 5 boys in each. They concentrated on fitness and carrying the ball. The lads took on board all the guidance and enjoyed their session. It's thanks to the coaches, parents and boys that these sessions can begin again so carefully and safely - well done.
COMMUNITY RUGBY LEAGUE PROGRESS
05.08.20

The long-awaited return of Rugby League's community game is set to be approved this week. Government sign-off on the RFL's Return of Community Rugby League Action Plan is imminent. The phased plan outlines the return of non-contact Rugby League – including social formats such as Touch and Try Tag Rugby League.
This phase will be followed, subject to a review led the RFL's Clinical Advisory Group at the end of August, by a phased return to full contact Rugby League.
Marc Lovering, RFL Director of Participation and Development, says:
"This is a major step forward for the community game and we were able to share the news with community game stakeholders first hand yesterday (Tuesday 4 August) via a series of webinars focused on Community Rugby League.
"When our entire sport was brought to an abrupt halt in March, some parts of the community game were playing and some were yet to begin their seasons. We knew then that resumption would be fluid and complicated.
"We didn't want to arbitrarily curtail league and cup competitions too quickly, but instead wanted to work closely with leagues, foundations and clubs, and to respond to the situation as it unfolded.
"We have taken a long-term approach to the evolving situation around the public health and the lockdown of sports, with the aim of keeping as many options open for as long as possible.
"The impact on the community game has been severe and, sadly, there will be insufficient time to complete competitions once full contact Community Rugby League returns. Our focus now is on supporting clubs with localised friendly fixtures in the Autumn."
A return to full contact Rugby League would involve modifications, including the removal of scrums.
JULY
BEN TAYLOR - STANLEY POET IN THE NEWS
27.06.20



Former Stanley Rangers player and Royal Navy Rugby League captain, Ben Taylor, has been in the news with his Yorkshire Prose poem for the return of rugby league after the lockdown. Ben is well known for his Yorkshire Prose poems and was recently interviewed on the radio and by the press - Yorkshire Post and Wakefield Express - for his latest poem on the RFL video. Ben visited Stanley Rangers in November 2018 when the Royal Navy Rugby League team came to Lee Moor to train. Ex-Rangers players Mark Robinson and Ben Taylor have captained the team and it was great to see the team in action at our club. The team were playing against the Australian Royal Navy RL team in the Armistice Challenge Cup Series which was held at Wakefield Trinity's stadium on 3rd November 2018.

You can enjoy the video, produced by Ben Taylor and Ashley Denton, on the RFL website:

httpsF://www.rugby-league.com/article/56845/rugby-league--were-on-our-way-back
UNDER 15S SAFELY TRAIN THIS WEEK
27.06.20
Our Under 15s completed a safe training session following the safety measures set out by the RFL and Government guidelines. Full credit goes to the coaches, parents and the players for making a safe and enjoyable session. Our junior teams are keeping active by holding their own zoom training sessions and taking part in the RFL Virtual Games.
NEW RFL GUIDELINES FOR COMMUNITY CLUBS TRAINING
21.06.20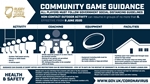 The Government has announced today that the UK has moved from Alert Level 4 to 3. The RFL remains at Stage 2Includes virtual activity and small group fitness and skills sessions with non-contact with social distancing measures in place. It remains to be 1 coach and 5 players in a "bubble"

This means that for Stanley Rangers our Under 15s

are starting up with group activities first , Tuesday and Thursdays from next week , They have satisfied the risk assessment criteria and put all measures in place. The other groups are awaiting confirmation and hoping to return in a few weeks. The younger age groups have been having zoom training sessions with their coaches and completing the RFL virtual challenges online. Everyone is keen to get back to play rugby!



HAPPY FATHER'S DAY!
21.06.20
Happy Father's day to all dads past, present and future. What memories do you have of Stanley Rangers Dad/Son/Daughter combinations ? At present we have:
Under 7s coach Paul with his daughter in the 7s and twin boys in the 13s
Under 9s coach Dan Grice with his son in the team
Under 10s coaches Neil and Ryan both have a son in their team
Under 11s coaches Sean and Chris Sykes both have a son in their team
Under 12s coaches Mark and Andy both have a son in their team
Under 13s coach Chris has a son in his team and the 9s and coach Paul as above
Under 14s coach Tom has a son in his team
Under 15s coaches Jonny, Shaun and Tony all have sons in their team and Jonny also has a son in the 13s
Stanley Rangers is a family club as you can see!
TOTS TEAMS APPEAL
23.05.20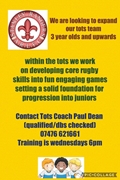 The club are looking to expand our Tots team of 3 years old and upwards. Within the tots, we work on developing core rugby skills into fun, engaging games which establish a solid foundation for progression into the junior teams. Training is on Wednesday evenings at 6pm. For more information please contact Paul Dean ( who is qualified and dbs checked) on 07476 621661.

Little ones do well in a fun environment and can learn skills whilst also having great fun.
JUNE
RFL STATEMENT
30.05.20

As the lockdown restrictions begin to ease, the RFL have issued new guidelines on the 2nd June about how playing rugby may resume. Stanley Rangers are currently considering all the guidelines with the teams.
Here is the RFL statement:


Following Government advice published on Monday 1 June the following Rugby League activity is permitted:

- Practising of individual skills and fitness activities. #SkillToPlay #FitToPlay

- Taking part in Rugby League activity with your family or people living in your household

- Skills and fitness activity in groups of no more than six:

Such group activity should comply with social distancing rules keeping two metres apart at all times.

Equipment including balls must be regularly sanitised.

Hand hygiene practices should be in place.The playing of any games, small sided or full, is not permitted.

Avoid meeting in groups of six in busy or overcrowded areas where it is not possible to maintain social distancing.

Rugby League coaches can lead small group activity for up to six people which includes the coach.

- Coaches must follow the RF''s safeguarding policies at all times ensuring they remain in sight of another adult, risk assess the activities and gain consent of the parent/carer if the participant is under 18. Particular care should be taken when risk assessing activity for younger age - groups where compliance with social distancing rules may be more challenging.

- Listen to the views of children and young people about their activities.

- Coaches can organise a session that has more than one group of six involved in the session as long as the groups are kept separate, social distancing rules are observed (including how players enter and exit the facility), and rules regarding use of and sanitation of equipment are observed and strict hygiene measures are in place.

- If any individual is symptomatic, living in a household with possible COVID-19 infection or is vulnerable on health grounds the guidance is to stay at home.
CALL OUT FOR NEW PLAYERS!
22.05.20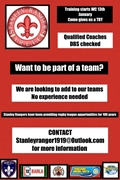 Stanley Rangers are looking for new players for our teams. Our club has a long and proud tradition of coaching at all levels with qualified coaches (DBS checked). we have teams from the Tots at Under 7s right up to the Under 16s and no experience is needed. Training will begin the week of the 13th January at the clubhouse on Lee Moor so why not come along and give us a try? If you would like more information email Stanleyrangers1919@outlook.com.
MAY
KEEPING FIT IN LOCKDOWN
22.05.20


The Rugby Football League, in partnership with the national social care charity, Community Integrated Care, and Leeds Rhinos Foundation have launched the #ActiveAtHome initiative, for everyone to keep active during this difficult time.
The #ActiveAtHome project is designed to help everyone keep active and improve their health and fitness in a safe environment during the current climate. The new initiative is inclusive to all so anyone can join in no matter what current level of fitness you may have.
The accessible #ActiveAtHome toolkit incorporates accessible mobility exercises, stretches and 15 individual exercises and activities demonstrated by Leeds Rhinos Foundation's Health team that can be done in the safety of your home. The online resource includes a step-by-step user guide and a selection of videos to help those taking part.
Participants can adapt and create their own workout from the toolkit and each Monday there will be a weekly challenge or specific exercise to focus on with those taking part encouraged to share the work they are doing and provide feedback using #ActiveAtHome.
More...
MEMORIES OF RAY LAYTON
22.05.20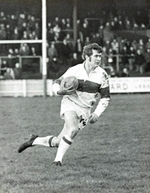 This week saw the 70th birthday of Wakefield Trinity player Ray Layton. Ray was a former coach at Stanley Rangers in the 1990s. Ray played for Trinity from 1972-1975 and is in number 780 in the Wakefield Trinity Heritage Hall of Fame. Around 1991-1992, Ray coached the successful under 17s team at Stanley and former Rangers player Andrew Jennings remembers him well. If anyone else remembers Ray or has any photos of Stanley Rangers teams from the 1990s please email the website. It would be great to have more photos and memories for the 1990s. (Thanks to the Wakefield Trinity Heritage Facebook page for this photo and information.)
Email: stanleyrangers@aol.com


STATEMENT FROM THE RFL ABOUT COMMUNITY SPORT
22.05.20
The RFL confirms no imminent return to action for grass roots
The Rugby Football League has, following a series of discussions, announced that clubs, teams, coaches and players cannot expect to get back onto the field of play anytime soon A spokesman stated: "In the week since the Government released the Covid-19 Recovery Strategy, the RFL have held webinars with community clubs, foundations, match officials, and this weekend the Youth and Junior Leagues.

"We thank all for attending – and for their continued commitment to the game. The overriding theme has been a desire to see Rugby League return as soon as possible – but a recognition that this may not be possible at community level for some time, and that we must be responsible in the interim, while doing all we can to maintain engagement with clubs and the game."

The RFL cited the Government's two-stage strategy, viz:

Step 1 of the Recovery Strategy, introduced on Wednesday and therefore applying now, states the following:

* "People may exercise outside as many times each day as they wish."
* People are permitted to exercise with one person from outside their own household, and "this means you should not play team sports, except with members of your own household".
* Training sessions at community and junior clubs are not permitted.
* Activity that involves opening clubhouses, changing rooms etc is not permitted.
* The emphasis is on exercising outdoors.

Step 2, to begin no earlier than June 1, involves "Permitting cultural and sporting events to take place behind closed-doors for broadcast, while avoiding the risk of large-scale social contact.

The RFL's statesman reflected: "However the strict conditions for such events to take place, involving regular testing of all participants and other detailed guidelines, are well beyond the community game. "Similarly, the conditions introduced for the return to training for players that must precede the return of competitive sport are specific to professionals, given the level of testing and medical provision required. "The RFL's approach will therefore be to keep the situation under regular review – it is fluid, depending on the public health situation, with the possibility of regional variations, as well as different approaches for different sports."We expect the next relevant changes to relate to the possibility of exercising in small groups – again, a long way short of being able to consider a return to contact Rugby League - but perhaps a return to some Rugby League activity."

He continued: "We're deliberately avoiding laying out a timetable of dates at this stage – it would only be guesswork, and might undermine the flexibility we will need over the coming months."As a general guide, clubs are advised that circumstances would need to change considerably for a full return until well into the summer, and possibly the autumn. We will issue a further update next month."And he concluded: "Finally, a reminder that the Sport England Community Emergency Fund has been temporarily paused for new applicants, to allow Sport England to work through the backlog of those who have already applied – and that the Fund, initially £20m, has been topped up with an additional £15m."You may also have seen some activity on social media over the weekend regarding a new initiative for clubs – a plan to arrange a schedule of Virtual Game Days, to help maintain team and club spirit at all levels."The initial response to some trials has been positive, and we will be providing further details in the near future."
WELL DONE CHARLIE!
05.05.20
Last weekend, Wakefield Trinity's Facebook page launched a competition for children to draw a picture of Daddy Cool, the Trinity mascot. Charlie Bateman who plays for Stanley Rangers Under 8s won and the prize is a first team kit for 2020. Charlie can't wait to get back playing.
Big congratulations from all of us Charlie!
APRIL
NEW SHIRT ON SALE ONLINE
26.04.20

Stanley Rangers in conjunction with Stag Sports and NHS Charities Together have launched a new shirt to support the NHS during the coronavirus epidemic. It costs £24 for an adult size and £20 for a junior shirt. A minimum of £8 per sale will be donated to the NHS Charities Together Fund for Local Projects. These shirts are UK manufactured and has our Stanley Rangers logo on the front and the club name on the back. To buy the shirt follow the link below to the online Stanley Rangers shop and support the NHS with this great shirt:

https://stag-sports.com/club-shops/stanley-rangers
RUGBY LEAGUE'S BIG EVENTS POSTPONED
23.04.20
On the 21st April the RFL made the following decision about Rugby League's two weekend events, which have now both been postponed.
Super League's Magic Weekend and the Championship's Summer Bash have both been called off due to the Coronavirus pandemic. Magic Weekend was set to return to Newcastle on the weekend of May 23-24, however, the ongoing lockdown has forced Super League officials to trash plans. But there is a hope that the event can remain in some guise later in the year.The same applies for Summer Bash, which was scheduled to take place on the weekend of May 30-31 at Blackpool's Bloomfield Road. The RFL hope the concept can be used once play resumes.
"It's regrettable that Super League has had to make this decision – but in light of the current situation, it is sadly unavoidable," said Super League chief executive Robert Elstone.
"Our fans will be disappointed because they were all looking forward to returning to Newcastle; however, Magic is still firmly in our plans for 2020, with St James' Park, at a later date, one of the options being considered."
An RFL statement read: "The concept of a round of fixtures being played at a single venue at some stage in 2020 – whether in the Betfred Championship and/or League 1, or the AB Sundecks 1895 Cup – remains one of the possibilities in the wide variety of options in the contingency planning being considered by the RFL and the clubs."
Tickets already bought for Dacia Magic Weekend in Newcastle will be transferable to a later date at St James' Park, or an alternative venue depending on when the season restarts.
HAVE FUN WITH SKILL TO PLAY
23.04.20

Although schools are closed and there are no training sessions or matches for our club, there are plenty of fun ways to keep fit and improve your rugby skills in your own garden and in the house. Take a look at the video posted on the Skill to Play Week 4 for some great videos posted by adults and children having fun and practising touch down skills (Tom Johnstone's flying touch downs have influended lots of players!) These vidoes are also available on YouTube at
https://www.youtube.com/watch?time_continue=3&v=WXqCFigS9NU&feature=emb_logo

The RFL have launched a new online resource called Skill to Play. Here is what it's all about:
"The Rugby Football League have launched the #SkillToPlay online initiative, which showcases some of the game's finest players and helps children and young people to emulate the skills of their heroes. Freely available via rugby-league.com and Our League, #SkillToPlay inspires children through a range of exciting skills and drills, including how to touchdown like the Tommies (Johnstone and Makinson), and run like Regan Grace. At the heart of the #SkillToPlay programme are resources to help young players discover the freedom and confidence to try new ideas and express themselves through 'free play'. And there are great prizes on offer for the best and funniest videos submitted using the #SkillToPlay hashtag."
Go to:

https://www.rugby-league.com/skill_to_play

MARCH
MORE NEWS FROM THE yORKSHIRE JUNIOR AND YOUTH LEAGUE
26.03.20
The Board of Management of the YJYARL have decided that all fixtures for all age groups of the YJYARL will be suspended until the 18/19 April at a minimum. Nearer to the time. advice issued will be taken into consideration when deciding to resume fixtures.
RFL STATEMENT ON SUSPENDING FIXTURES DUE TO COVID-19
16.03.20
Following on from the Government's statements on the situation on coronavirus, and the statement issued by The RFL and Super League clubs today the Board of Management of Yorikshire Junior and Youth ARL have issued the following statement:-

"All YJYARL fixtures for all age groups will be suspended until 18/19 April at a minimum. We have added two weeks to The RFL issued date to take the Easter Holidays into account. We will then take into consideration any advice issued nearer to the time to resume fixtures.

We advise clubs to refrain from training for the time being – following the latest government advice to avoid all non-essential gatherings.

The Discipline Hearings scheduled for 23rd March are cancelled.

We appreciate that this is an unsettling time for all clubs, in an ever changing situation. We will communicate with clubs should anything change."
MIXED RESULTS FOR OUR TEAMS
16.03.20
The Under 15s had a good win against Upton U15s 32-18 on Sunday in their first game of the season in Division Three. The Under 14s lost out to Milford in a tough match 6-60; the Under 13s lost out to 3rd place West Bowling 16-32 and the Under 12s travelled to Lindley Swifts, losing out 42-12.

CURTAIN RAISER FOR OUR JUNIORS ON FRIDAY'S WAKEFIELD TRINITY CUP GAME
16.03.20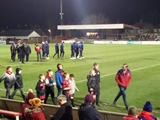 Well done to our junior boys who played in the pre-match tournament at Belle Vue on Friday night before the Challenge Cup game against Bradford Bulls. As always our juniors did the club proud!
THIS WEEKEND'S FIXTURES
11.03.20
The Under 15s begin their season with a home fixture against Upton Under 15s on Sunday 15th March; the Under 14s will be away at Milford also on Sunday. The Under 13s will travel to West Bowling on Saturday 14th and the Under 12s also play on Saturday and will be at home to Lindley Swifts U12s. Out junior teams will be busy as well with the Under 11s playing at Crigglestone All Blacks U11s; the Under 10s are also away at Newsome Panthers Juniors U10s; the under 9s are playing on Sunday 15th at home against Silsden U9s; the Under 8s are away at Dearne Valley Bulldogs U8s also on Sunday and finally our Under 7s will have a home game against Newsome Panthers Juniors U7s. Good luck to all our teams!
MIXED RESULTS LAST WEEKEND
11.03.20
The Under 12s had a good win against Whinmoor Warriors on the 7th beating them 22-18 in a closely-fought game. In other matches the Under 14s lost out to Silsden Storm 6-52, whilst the Under 13s lost out to Dewsbury Celtic 14-24.
THIS WEEKEND'S GAMES
06.03.20
This Saturday - 7th March - our first game at home is the Under 13s who take on Dewsbury Celtic U13s, kick off at 10.30am. Then at 11.30am the Under 11s play at home against Sharlston Rovers U11s. The only game on Sunday is the 11.30am match between the Under 14s at home to Silsden Storm U14s.

WEATHER AFFECTS START OF THE SEASON
04.03.20
Only one of our teams managed to play at the weekend, owing to the bad weather. The Under 12s began their season in Division Five with a home game against Hunslet Club Parkside U12s. In a free flowing game they were beaten 16-50 but played with great enthusiasm and commitment.
More...

This coming weekend, on Saturday 7th March, the Under 13s are at home to Dewsbury Celtic and the Under 12s are travelling to Whinmoor Warriors. On Sunday 8th March, the Under 14s will be at home to Silsden Storm.

FEBRUARY
NEW SEASON STARTS THIS WEEKEND
29.02.20

The season starts this weekend for our junior and youth teams. Today the Under 12s will be playing at home against Hunslet Parkside Under 12s at the pitch at the club. The referee has stated that this game can go ahead. On Sunday the Under 14s will travel to take on the Fryston Warriors Juniors, kick off 10.30am.

The younger teams will begin their season later in March.

Good luck to all our teams!

BIG WIN FOR THE UNDER 13s
29.02.20
The Under 13s had a great win beating Normanton Knights 66-0 in the Wakefield District Cup. The Under 15s game against Upton was postponed.
WAKEFIELD DISTRICT CUP GAMES THIS SUNDAY
22.02.20

It's a busy day this Sunday - 23rd February - with two home games for our junior teams in the Wakefield District Cup. At 10.30 the Under 13s take on neighbours Normanton Knights Under 13s and then at 11.30 it's kick off time for our Under 15s against Upton Under 15s. Come on down to Lee Moor and give the lads your support!

The season for the junior teams will begin next weekend and the younger teams will start again in March.
COACHING STAFF WANTED FOR UNDER 16S TEAM
18.02.20

Stanley Rangers are looking to recruit a Level 2 coaching and team manager for the already established Under 16s team. If coaching badge needs updating or obtaining we can also negotiate this. We are also looking for new players for the team - School year 11 - to add to the team. Training is on Tuesday and Thursday evenings at Stanley Sports and Social Club. For more information please contact Stanleyrangers1919@outlook.com

The Under 16s are a keen and dedicated team who will be pleased to have new players so why not come along and try out?
JANUARY
100 CLUB NOW FINISHED
12.01.20
Stanley Rangers 100 Club has now closed so any members should make sure they have cancelled any standing orders or direct debits.
UNDER 13S LOSE OUT TO HUNSLET
08.01.20
The Under 13s played at home against Hunslet Club Parkside in the quarter final of the BARLA Yorkshire Supplementary Cup and lost by the narrowest of margins 10-16.
UNDER 13s CUP MATCH
04.01.20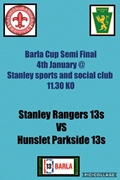 Happy New Year everyone and we kick off with the Under 13s taking on Hunslet Club Parkside Under 13s in the quarter final of the BARLA Supplementary Cup, kicking off at 11.30am on Saturdsy 4th January at Lee Moor. Your support would be really appreciated by the team so please come along and give the lads a cheer!