EASYFUNDRAISING HELPS FUNDS FOR THE CLUB
03.03.2021

With all of us using online purchasing more, did you know that you can support our club at the same time? All you need to do is join up to Easyfundraising and choose Stanley Rangers, start to shop on the easyfundaising.org.uk website or get the app, with over 4.200 retailers to choose from. Once you make a purchase, a small amount is donated to our cause. It's as simple as that - why not give it a go?
RANGERS CLUB SHOP IS OPEN
03.03.2021
Stanley Rangers now have a club shop where you can buy official Stanley Rangers kit for adults and juniors, along with training gear and hats and scarves for spectators to keep warm in. All the products feature the Rangers logo and are of a high quality. All prices are inclusive of VAT, postage and packing charges.We utilise Royal Mail for delivery on all items.

To view our club shop, go to the Stag Sportswear website and under the Club Shops section you can find our logo, just click on and it will take you to all our items:
OWEN TROUT IN THE NEWS
02.03.21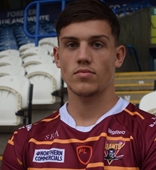 Good to see ex-Stanley Rangers player Owen Trout in the Rugby League & League Express recently. In an article about Super League rookies hoping to make a big impression this season Owen,21, was one of the 12 chosen. Owen began his rugby career at Stanley Rangers and was called into the England Academy squad to face the Australian Schoolboys in 2018. His professional debut was at Dewsbury in 2019, then played for Leeds Rhinos. In 2020 he moved to Huddersfield Giants and plays in the back row. He will be joining up with Mattie English, another Stanley Rangers player.
UNDER 11s PLAYERS WANTED - COME ALONG AND TRY!
24.02.21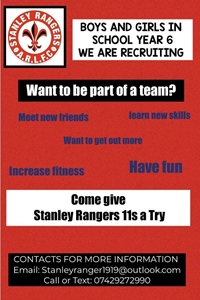 Our junior teams will now be able to resume after March 29th so Stanley Rangers are looking for new players for the Under 11s team. Boys and girls who are in school year 6 are invited to come along and have fun, keep fit, make new friends and learn new skills.
For more information you can email Stanleyrangers1919@outlook.com or call o text 07429 292 990.
GOOD NEWS FOR OUTDOOR SPORT
23.02.21


With the announcement that grass roots sports can now make a return from March 29th, Stanley Rangers are looking for new players for our under 7s and under 8s. Boys and girls who are in school years 1,2 and 3 are all welcome. If you are interested please contact via our Facebook page - Stanley Rangers ARLFC - or the mobile numbers on the poster. Come down and enjoy sport in a safe and friendly environment.
ARCHIVE NEWS FOR THE NEW SEASON

23.02.21

The website offers an Archive News feature where previous month's entries are available to read. Just click on the link to find this season. (Please remember that previous season's will show different layouts, etc)

THE CLUB SHOP IS NOW OPEN FOR BUSINESS

23.02.21

The new Stanley Rangers ARLFC Club Shop is now open and is now ready for orders. Go to the Stag Sportswear website and select our club logo in the Club Shop section and it will take you to all our products. From adult and junior kit, training gear to spectator hats and scarves there is something for all our members and supporters.

x