UNDER 15s THROUGH TO THE NEXT ROUND OF THE BARLA YORKSHIRE CUP
24.11.21

Well done to our Under 15s who Castleford Panthers 20-14 in the Round One of the BARLA Under 15s Yorkshire Cup. The draw for the 2nd round has been made and is to be played on Sunday 5th December and our team have been drawn against either Shaw Cross Sharks B or Featherstone Lions.
XMAS RAFFLE NOW ON!
23.11.21
Stanley Rangers Christmas Raffle for 2021 is now beginning with some great prizes and only £1 per ticket. Prizes will include chocolates, sweets, a pamper hamper, a £30 gift voucher for P'aitre among lots of other goodies. Tickets are available from the team coaches or from Tony's fish and chip shop on the Leeds Road, Outwood - just put your name and contact number on the ticket. All the proceeds will go to help the teams so let's make it a good one for the club.
WAKEFIELD TRINITY CHOOSE 6 OF OUR UNDER 14S
16.11.21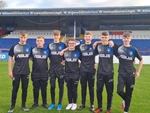 Congratulations to : Ewan Molyneux, George Britton, Riley Britton, Oliver McCraw, Alfie Briggs, James Astin and Sam Mackenzie from our 2021 Under 14s team. These players have been selected and confirmed as fully fledged Wakefield Trinity Scholarship players. You should be proud of your achievement, all the hard work you have put into the team and rugby has paid off, we are sure proud to have you in our Ranger's family.
WAKEFIELD TRINITY AND TURNING POINT OFFER HELP
16.11.21
Wakefield Trinity have partnered with Turning Point to offer help with men's mental health. Team Mate will be holding two workshops before Christmas - Winter Wellness on November 29th and Coping with the Festive Season on December 6th - both at the Mobile Rocket Stadium from 5.30 -7pm. If anyone is interested please email info@wakefieldtrinityfoundation.co.uk to register an interest.
UNDER 15s IN THE UNDER 15s BARLA YORKSHIRE CUP ON SUNDAY 21st
04.11.21


Our Under 15s team have been drawn in the 1st round of the BARLA Yorkshire Cup. The match will be an away fixture against Castleford Panthers on November 21st. Good luck to the team!


HALF TERM FUN AND GAMES AT RANGER PARK!
04.11.21
A big thank you goes to Wakefield Community Foundation who held a haf term Hallowe'en camp at Ranger Park on 28th October, with special thanks to Trinity's Yusuf Aydin and Sam Eseh who came along to join in the activities and rugby skills with the children. There were lots of smiling faces and a great time was had.

More....
CALLING ALL UNDER 18s
01.11.21

Stanley Rangers are recruiting for an Under 18s team. Our Under 16s, who have had a really successful season are now ready to step up to the under 18s team, so if you want to carry on with your rugby why not come down to the club and train with a great bunch of lads and a warm welcome. For more information contact stanleyrangers1919@outlook.com or via the website at stanleyrangers@aol.com.

SEASON COMES TO AN END
01.11.21

As the 2021 season cmes to a close, Stanley Rangers would like to thank all the players, coaches, game day managers, first aiders, match officials and other volunteers who have kept the teams going during such a difficult season.

The Under 14s had their last game of the season on Sunday when they beat Birstall Victoria 26-10, maintaining their unbeaten record this season and keeping them at the top of YJARL Under 14s, Division 2.
WOMEN PLAYERS WANTED!
10.09.21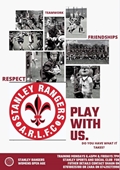 Stanley Rangers Womens are still recruiting players at all levels - from "playerd before" to "never having touched a rugby ball".

Stanley Rangers is a family club with fully qualified coaches and age groups from the under 7s to Masters.

Training is on Monday evenings at 6.45pm or Fridays at 7pm for girls and women over 16 years of age, at Stanley Rangers Sports and Social Club, Lee Moor Road, Stanley, WF3 4EP.

So why not come down to the club tonight and have a go?
PLAYERS WANTED!
10.09.21
We are on the look out for players in school years 7 and 8 to come along and boost our 11s and 12s teams squad numbers.

11s train Monday and Wednesday 6.15pm
12s train Monday and Thursday 6.30pm
(Both play matches on Saturday's)


No experience is needed ,all abilities welcome, we will support player development.



x