BARLA YOUTH AND JUNIOR CUPS RESULTS
18.11.19
The BARLA Yorkshire Cup 1st round games were played last weekend on the 17th November and our teams were involved. The Under 14s playing in the BARLA U15s draw were beaten by Stanningley U15s 54-0 in the 1st round; the Under 15s playing in the U16s draw were beaten 18-0 by Hull Dockers U16s.
CLUB AGM IN DECEMBER
19.11.19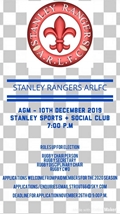 Stanley Rangers ARLFC will be holding their Annual General Meeting at the clubhouse on December 10th 2019 at 7.00pm. The roles that will be up for election are the Rugby Chairperson, Rugby Secretary, Rugby Disciplinary Chair and Rugby Child Welfare Officer. Applications are welcome from paid members for the 2020 season and for applications and enquiries email Sarah Trout at strout66@sky.com. The deadline for applications is November 26th at 9pm..
NEW YEAR'S EVE PARTY
18.11.19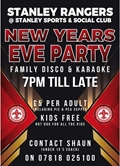 A date for your diary - the club will be holding a New Year's Eve Party at the clubhouse on the 31st December from 7pm til late. There will be a family disco and karaoke. The cost for adults is £5, including a pie and pea supper and kids go free with a hot dog included. For tickets and more information please contact Shaun, the Under 15s coach, on 07818 025100. This is going to be a great family night out to celebrate bringing in the New Year with family and friends.
FIXTURES FOR THIS WEELEND
12.11.19

This Sunday - 17th November - the Under 16s will be playing in Round One of the BARLA Yorkshire Under 16s Cup against Hull Dockers at home. and the Under 15s are playing at home against Stanningley U15s in the Under 15s Cup and the Under 13s will be away at Lock Lane in the Under 13s Cup. Good luck to all our teams this weekend!
BARLA YORKSHIRE CUP DRAW
07.11.19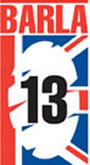 The 1st round draw for the BARLA Yorkshire Cup has now been made and Stanley Rangers youth and junior teams are involved. Clubs are taken from West Yorkshire, North Yorkshire, South Yorkshire and Hull.

The Under 12s, playing in the U13s category, beat Whinmoor U13s 84-0 in the Preliminary Round, and have now been drawn in Round 1 on 17 November v Lock Lane (A). Also on the 17th November, the U15s v Stanningley U15s (H) Round 1 and U16s v Hull Dockers (H) Round 1. Kick off times to be announced.


BARLA teams play a season up and so the U13 and the u14 age groups will play as U14 and U15 this season for Yorkshire Juniors and the U15s will play as Under 16s..

GREAT HALF TERM FUN AT STANLEY
07.11.19
There was plenty of fun and games at Stanley Rangers at half term beginning with a fun-filled Hallowe'en party at the clubhouse on Saturday 26th October. Then during the following week ;there was a fantastic rugby camp with Rugby AM Elite Kids camp on Wednesday 30th and Thursday 31st October at the club. Many thanks for all their hard work and enthusiasm.
ARCHIVE NEWS FOR THE NEW SEASON

28.10.19

The website offers an archive news feature where previous month's entries are available to read. Just click on the link to find this season. Please remember that previous season's will show different layouts, etc)

THE CLUB SHOP IS NOW OPEN FOR BUSINESS

28.10.19

The new Stanley Rangers ARLFC Club Shop is now open and is now ready for orders. Go to the Stag Sportswear website and select our club logo in the Club Shop section and it will take you to all our products. From adult and junior kit, training gear to spectator hats and scarves there is something for all our members and supporters.

x