UNDER 18s MEET AND GREET DATE
09.05.18

The Under 18s will be holding a "meet and greet" session on Sunday 3rd June at 12 noon at the clubhouse. This is a great opportunity to meet the coaches, train and have lunch. The lan of the day is 12pm - Meet and Greet + introduction with coaches; 12.30pm - First training session and 2pm - FREE LUNCH and signing on opportunities. Come down, bring a mate and have a good day! We welcome anyone with any level of experience. (Search @RangersU18s on Facebook for more information)
RACE NIGHT AT THE CLUB
06.05.18

Following the home game against Dewsbury Celtic on Saturday 12th May there wiil be a Race Night at the clubhouse from 7pm. There are still horses andjockeys available to buy so please contact Luke Saunders for more information: email ld.saunders9@gmail.com. Entry is free and everyone is welcome. First race is at 7.30pm so come along and enjoy a good evening out in aid of club funds.
1st TEAM HAVE A TOUGH GAME
01.05.18
The 1st team crossed the Pennines on Saturday to play agianst Oldham St Annes, currently 8th in the league. In a tough match, 16-man Stanley were beaten 70-16 by the home side. Rangers fought back in the second half with tries from Lee Anderson, Jack Gordon and Jordan Walker with Connor McLellan and Neil Ackroyd adding the goals. There is no fixture this weekend and the next match will be on May 12th at home to Dewsbury Celtic.
NEW PLAYERS WELCOME!
01.05.18
Stanley Rangers Open Age team are still looking for new players to join the squad. Come and test yourself in the National Conference League. Players of all skill and ability are welcome. Training times: Tuesday 6.45pm at the Stanley Rangers club on Lee Moor Road and Thursday at 6.45pm att St Peters school in Stanley. Email stanleyrangers@aol.com for more information.
UNDER 13S TO PLAY IN WAKEFIELD CUP FINAL
01.05.18
A massive well done to our Under 13s team for making it to the Final of the Wakefield Cup running out emphatic 40-0 winners against Upton last week. They can now look forward to a cup final day out which will be played at Wakefield Trinity, date to be announced. Well done to all the boys and to coaches Jonathan Haran and Shaun Hodgson. The Under 13s are also in the Continuation Cup and doing well in their Division 3 of the Under 13s Yorkshire Youth and Juniors League..
STANLEY NIBS ALL GIRLS TEAM TO BE FORMED
01.05.18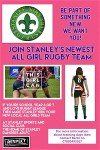 Exciting times at Stanley Rangers! We are pleased to announce that we are looking for girls from school years 6 and 7 to be part of our new Stanley Nibs team. We are a friendly club with a long tradition of encouraging rugby league in Stanley and qualified coaches. If you're interested in playing or just want to know more please get in touch by ringring Becki on 07850 495017 or via email to stanleyrangers@aol.com. Remember "This Girl Can"!
UNDER 9s ARE CALLING YOU!
01.05.18

Calling all boys and girls under 9 who love rugby league! Stanley Rangers Under 9s are looking for additional boys and gilrs to join their great team this season. If you are in year 4 at school, want to keep fit and have fun and love your rugby contact Jordan on 07804 470382 or email stanleyrangers@aol.com for more information and come on down to Lee Moor.
STANLEY RANGERS UNDER 18s TEAM PLAN
16.04.18

Stanley Rangers are trying to restart the U18s age group here. This will provide an excellent playing opportunity in the future for those who haven't been taken on at academy level. Stanley Rangers is a massive club with a proud history and has provided the professional game with countless professionals. The idea behind the Under 18s team will be open to anyone, working on basic skills, strategy and providing a real competitive platform for those who want to grow and learn and become a better player, In addition, the 18s will be a pressure/stress free zone allowing players to mature and develop at their own pace. Contact Liam on https://www.facebook.com/RangersU18s or email stanleyrangers@aol.com for further information.
GET INSPIRED - HOW TO GET INTO RUGBY LEAGUE
06.03.18

If you;re interested in finding out more about rugby league, want to brush up on the rules or find out about the different ways rugby league is played then take a look at "Get Inspired" in the Sport section of the BBC website. With videos of Jamie Peacock, Jamie Jones-Buchanan and Keith Senior there's plenty to read about our great game..

x