2021
MARCH
RFL ROADMAP TO RETURN OF COMMUNITY RUGBY LEAGUE
10.03.21
This is the advice from the RFL:
Community and social Rugby League are set to return from Monday 29 March, 12 months since the Coronavirus outbreak led to the suspension of all activity.
The community game did return briefly and partially during autumn 2020, now it is hoped that Rugby League is back for good across the entire game.
For many, 29 March will mark the beginning of a phased return towards full contact Rugby League. This phased return includes four weeks of training from 29 March, a fortnight of friendlies from 24 April and a resumption of competitions from 8 May.
Social and non-contact variations of the game, such as Touch RL, Try Tag RL and X-League, will also resume from this day, while Masters Rugby League is expected to return when members are finally allowed to socialise more freely off the pitch.
RANGERS OPEN AGE TEAM IS BACK!
10.03.21
Stanley Rangers Open Age team is back and ready to start training again when outdoor sports will be allowed after the end of March. Training - skills - will be at the Lime Pit Lane fields on Saturday mornings at 9.30am from 3-24 April and training - extras - also at Lime Pit Lane fields on Tuesday evenings at 6pm from 6-27 April. A friendly game against Eastmoor Dragons has been organised for May 1st at 2.30pm.
All dates are subject to government guidelines.
EASYFUNDRAISING HELPS FUNDS FOR THE CLUB
03.03.21

With all of us using online purchasing more, did you know that you can support our club at the same time? All you need to do is join up to Easyfundraising and choose Stanley Rangers, start to shop on the easyfundaising.org.uk website or get the app, with over 4.200 retailers to choose from. Once you make a purchase, a small amount is donated to our cause. It's as simple as that - why not give it a go?
RANGERS CLUB SHOP IS OPEN
03.03.21
Stanley Rangers now have a club shop where you can buy official Stanley Rangers kit for adults and juniors, along with training gear and hats and scarves for spectators to keep warm in. All the products feature the Rangers logo and are of a high quality. All prices are inclusive of VAT, postage and packing charges.We utilise Royal Mail for delivery on all items.

To view our club shop, go to the Stag Sportswear website and under the Club Shops section you can find our logo, just click on and it will take you to all our items:
OWEN TROUT IN THE NEWS
02.03.21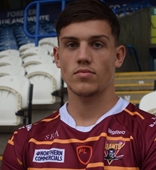 Good to see ex-Stanley Rangers player Owen Trout in the Rugby League & League Express recently. In an article about Super League rookies hoping to make a big impression this season Owen,21, was one of the 12 chosen. Owen began his rugby career at Stanley Rangers and was called into the England Academy squad to face the Australian Schoolboys in 2018. His professional debut was at Dewsbury in 2019, then played for Leeds Rhinos. In 2020 he moved to Huddersfield Giants and plays in the back row. He will be joining up with Mattie English, another Stanley Rangers player.
FEBRUARY
UNDER 11s PLAYERS WANTED - COME ALONG AND TRY!
24.02.21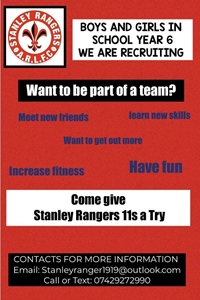 Our junior teams will now be able to resume after March 29th so Stanley Rangers are looking for new players for the Under 11s team. Boys and girls who are in school year 6 are invited to come along and have fun, keep fit, make new friends and learn new skills.
For more information you can email Stanleyrangers1919@outlook.com or call o text 07429 292 990.
GOOD NEWS FOR OUTDOOR SPORT
23.02.21


With the announcement that grass roots sports can now make a return from March 29th, Stanley Rangers are looking for new players for our under 7s and under 8s. Boys and girls who are in school years 1,2 and 3 are all welcome. If you are interested please contact via our Facebook page - Stanley Rangers ARLFC - or the mobile numbers on the poster. Come down and enjoy sport in a safe and friendly environment.
ARCHIVE NEWS FOR THE NEW SEASON
23.02.21
The website offers an Archive News feature where previous month's entries are available to read. Just click on the link to find this season. (Please remember that previous season's will show different layouts, etc)
JANUARY
STANLEY RANGERS AGM NOTICE
22.01.21

Stanley Rangers will be holding their 2021 Annual General Meeting on the 10th February at 7.30pm, which will be held online via 'teams'. The roles for application are as follows: chair, secretary, treasurer, CWO (Child Welfare Officer) and 2 Covid Officers. Applications for any of these posts should be made by email at Stanleyrangers1919@outlook.com. The closing date for applications is 6th February.

The registrations for our junior teams for the 2021 season are going really well and gives us all hope for some light at the end of the tunnel. All activities are on hold at present and any return to training and games will depend on the RFL instructions following government lockdown release. The next government review will be in mid-February.
NEW LOCKDOWN IN PROGRESS
06.01.21
With the announcement from Government of another National Lockdown, the club is awaiting an update from The Rugby Football League as to the next steps for all clubs. Please be patient as this is a developing situation which has no doubt thrown up many questions. More information will be posted as soon as it is available.
STANLEY'S MINI RANGERS BOOST
03.01.21


Yorkshire Junior and Youth Amateur Rugby League have received an grant of £11,977 from the CreatedBy RLW2021 Capital Grants Legacy Programme. The grant, which has been awarded to help more people play rugby league at grassroots level in Yorkshire, will fund the league's new 'cubs' programme aimed at attracting players from the ages of three to five.

It will be used to provide equipment to clubs to enable them to facilitate new 'cubs' teams. The cubs programme is a training programme solely for children under the age of 6, with the aim of providing children a fun welcome to Rugby League. They will learn the basics of grip, catch, carry, passing and scoring tries in a fun and safe environment. The aim is to deliver weekly sessions once a week for boys and girls, based at our local community rugby league clubs.

Stanley Rangers, one of the beneficiaries, said:

"Here at Stanley Rangers ARLFC, we have been offering rugby league opportunities since 1919. We are a family friendly club who encourage siblings of players to step from the sidelines as mascots onto the field to become mini rangers as well involving the local community to take part. Mini Rangers are our foundation. The sessions encourage core rugby skills into fun age relevant activities and games. We are looking forward to getting our minis up and running again in 2021."

This is great news for our club and we look forward to being able to welcome girls and boys to come along and have fun, make new friends and learn ball skills in a safe environment,

(The Rugby League World Cup 2021 will kick off on 23 October 2021, with the men's, women's and wheelchair competitions taking place simultaneously, under one tournament banner for the first time.)
HAPPY NEW YEAR FROM STANLEY RANGERS!
01.01.21
It's the 1st of January 2021 and we are all hoping for a brighter and healthier year not just for the club and rugby league at all levels but of course for the country as a whole. The competitive ages will be back in January and will hopefully be taking part in friendlies. The non-competitive ages are looking to be back February and the league starts fully April 2021, dependent on government guidelines.
MINI RANGERS FUN FOR BOYS AND GIRLS
03.01.21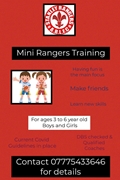 Stanley Rangers are launching Mini Rangers - a fun and safe way for 3-6 year old boys and girls to play rugby, learn new skills and make friends. Current Covid guidelines are in place and our qualified coaches are DBS checked.

For more information please ring 07775 433646.