Matches: Kick off times for the 2023 games to be confirmed. Please note, some of this season's matches are scheduled to be played on a Sunday. (These matches are classed as friendlies so there will be no scores showing in the Results table)
Training: From Friday 13th January 2023, training at Wakefield Hockey Club at 7pm for 10 weeks. From 13th March onwards, on Wednesday evenings on the training pitch at the club at 7.00pm. New and old players are welcome.
Sponsors: Our main sponsor is The Hogan Group. We also have secondary sponsors from Victoria Sandwich and Little Rainbow Nursery. Thank you to all our sponsors and please support them.
Aims of Masters: for more information about the aim of Masters rugby league, click here.
Rules of the Masters games: to find out more about how Masters games are played and the different age levels , go to the link: Official rules for Masters Rugby League
Masters 2022 Season:
-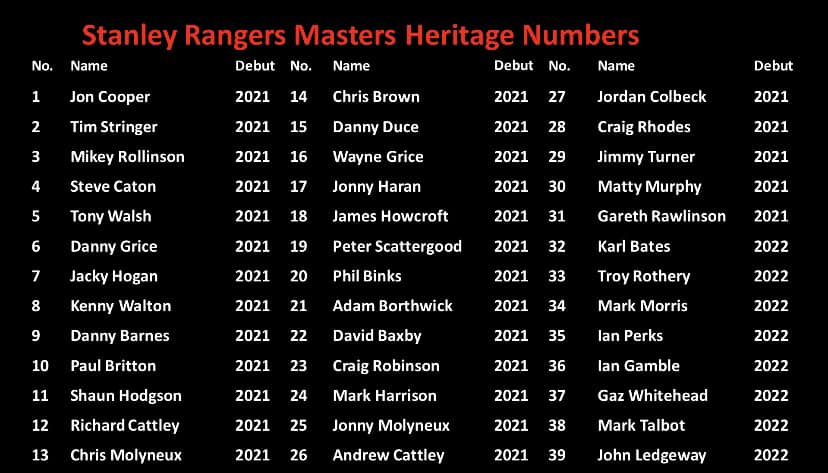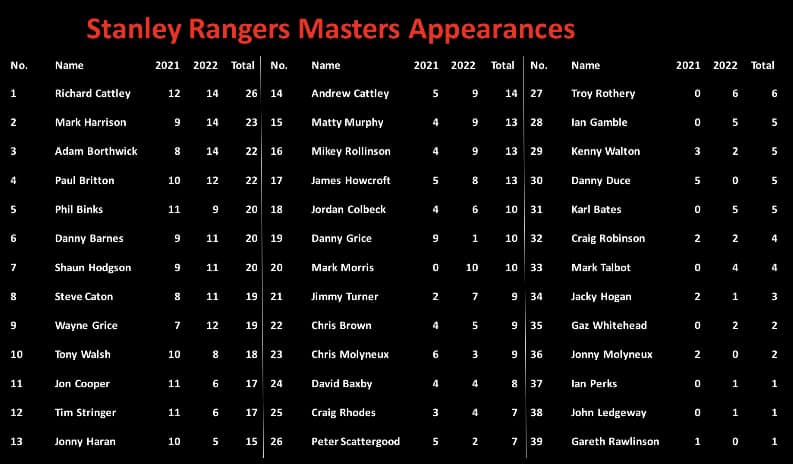 Fixtures, Results and Reports 2022/2023
Masters Rugby League
DATE

TEAM

MATCH INFO

2023
February
19
A
Leeds
Kick off TBA
March
04
A
Kippax
19
H
Eastmoor Dragons
25
A
York Festival
April
01
H
Castleford
Easter Break
16
H
Normanton
May
06/07
A
Birkenshaw
TBC
21
A
Farnley
June
11
A
Eastmoor Dragons
-
24
H
Kippax
-
July
02
H
Leeds
15
A
Normanton and Eastmoor (double header)
29/30
H
Birkenshaw
-
August
05
H
Toll Bar
18
A
Castleford
September
09
A
National Festival (Blackpool)
17
H
Castleford
23
A
Toll Bar and West Hull (double header)
DATE

TEAM

FOR

AGAINST

MATCH REPORT

2022
March
12
A
Yorkshire Festival (Castleford)
-
-
Photos
25
A
Dudley Hill
-
-
KO 7.00pm
April
08
H
Eastmoor Dragons
-
-
KO 6.30pm
Easter Break
23
H
Normanton
-
-
KO 1.00pm
May
07
A
Doncaster Toll Bar
-
-
-
21
H
Dudley Hill
-
-
KO 1.00pm
June
05
Jubilee Weekend
12
A
Eastmoor
-
-
-
19
A
GB Police
-
-
-
July
02
H
Doncaster Toll Bar
-
-
KO 1pm
16
A
Normanton
-
-
Photos
30
A
Castleford
-
-
-
August
13
H
Thornhill
Rearranged from 6th Aug. KO 1pm.
20
H
Kippax
September
03
A
National Festival (Blackpool)
17
H
Castleford
KO 1pm
October
01
A
Thornhill Trojans
KO 2.30pm
28
Presentation Evening with the Open Age

Top of page