In Stanley, rugby league has been played since 1919, when the original name of the club was Stanley Nibs. The headquarters were at the Wagons and Horses pub and then the club moved to the Miners' Arms at Lee Moor in 1964. When the Miners' Arms was closed by the brewery, the rugby club was offered similar facilities at the Ship Inn across the road from the Miners' Arms.
The club then formed a junior section, run by Ian Harris and David Sampson, with Alan Gibb joining a few years later. The junior section has become one of the most respected setups in amateur rugby league circles, providing the professional game with an abundance of players,some who have gone on to also represent their county and especially their country at international level (see the Roll of Honour page).
1950s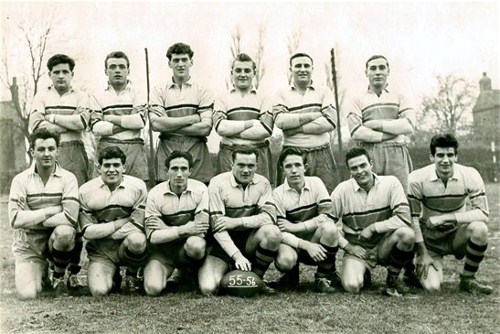 Stanley Rangers 1955/56 season
Back Row: J Hudson, J Croone, B Wright, W Collwood, A Sampson, Sampson
Front Row: B Roebuck, D Wakefield, E Morris, B Field, R Morris, D Brown, R Greene
(Photo courtesy of David Wakefield)

Memories of the 1950s

Jeff Tennant sent these photos about his father Norman Tennant:


The team photo shows Norman standing wearing a scrum cap. I only know 2 of the other players. First on the left standing is 'Bleg' Hunter whose son Steven played for Rangers in the 70's and 80's. Next to him with the hair is my uncle Elijah Tennant who himself went on to play for Bramley in the 50's.

The other photo shows Norman on the right helping a team mate after the game. I don't know the other player but believe one of the 3 youths on the right is Henry Sharrat who lived in the bungalow at the bottom of Lime Pit Lane which is now a cafe.
These photos were both taken on the old Rooks Nest Road field.
1960s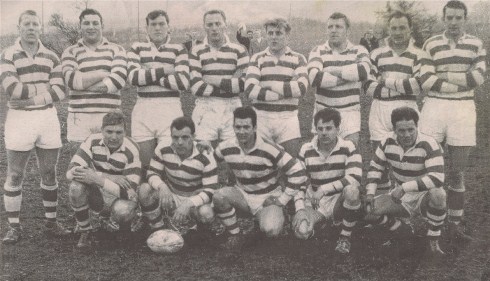 Stanley Rangers team, 1960s
Back row (left to right): Henry White, Terry Clarkson, Arthur Wright, Dave Denison, Tony Hammond, Peter Hammond, Ronnie Stead, Derek Fox (later a respected referee).
Front row (left to right): Alwyn Shepherd, Geoff Bateman, Les Starkey, Tony Peters, Henry Parking.
Stanley Rangers brothers, 1960s
Five sets of brothers played for Stanley Rangers in the 1960s. They were Dave and Steve Way, Les and Brian Starkey, Geoff and Ronnie Bateman, Alan and Kenny Baker and Vic and Terry Sellers. Their coach was Laurie Gant.
(Thanks to Les Starkey for this photograph)
1970s
Stanley Rangers at Yorkshire Cup Final, Belle Vue 1970-71
Back Row (left to right): Les Starkey, Stuart Ansell, Colin Hargrave, Barry Haigh, Pete Darling, Pete Brook, Steve Way, Malcolm Grainger
Front Row (left to right): Ray Kilburn, Dave Bentley, Colin Brook, Dave Way, Nick Bedford, John Tate, Roy Stanley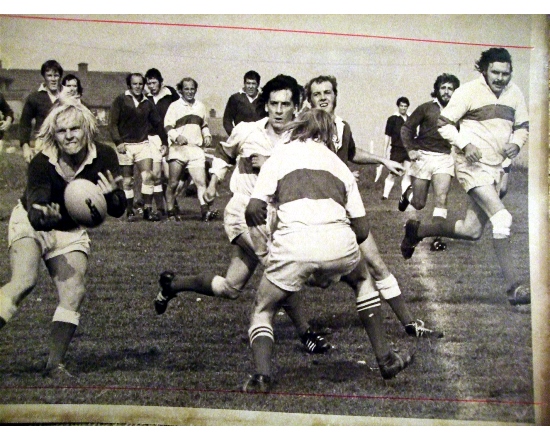 The match photo, is from a '73 Local Cup game played at Eastmoor, between Stanley Rangers and Brookhouse. The Stanley players, in white jerseys with red band, are Malcolm Grainger (far side), Barry Fitchett, Peter Ashton, and Colin Margrave.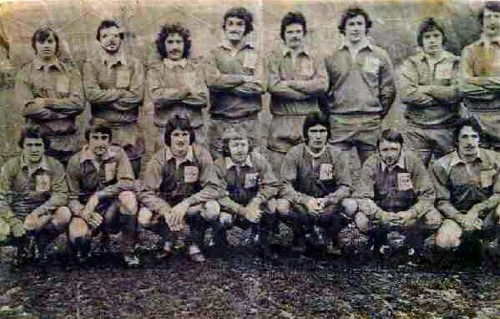 Stanley Rangers pre-1978 team
This photo was taken by A. Paton and displayed in the Stanley History online website.The caption reads "Stanley Rangers who play in the West Yorkshire Amateur Rugby League.
Back, John Kaye, Paul Lawrence, Alec Paton, Kev Ward, Grant Wilson, Andy Holland, Charlie Myton, Steve Way.
Front, B Walker, Steve Butterfield, Dave Powell, Derek Halmshaw, Barry Lumb, Dave Way, Barry Fitchett.
Memories from Jeff Tennant
I am an ex Rangers player from the early 70's before signing for Bramley. Here are a couple of photos from my time, The first one is a team photo.
This next
photo is of me during a game against Dewsbury Celtic at Rooks Nest Road. There are several well known faces in the line of spectators including Malcolm and David Sampson, Barry Lumb, Charlie Myton and Rangers stalwart Ian Harris.
1980s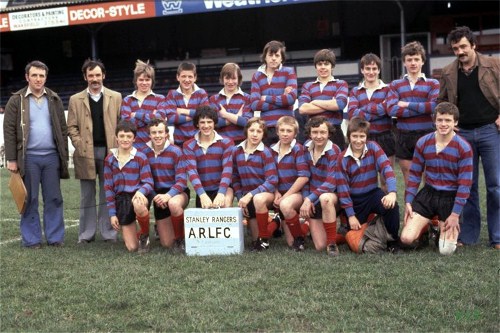 Stanley Rangers touring team, 1980
This photo was taken by Brian Robinson at Wakefield Trinity's ground. during the Easter break in 1980 when Stanley Rangers visited Albi in France for the first time. The players were made up of the Under 15 and 17 teams.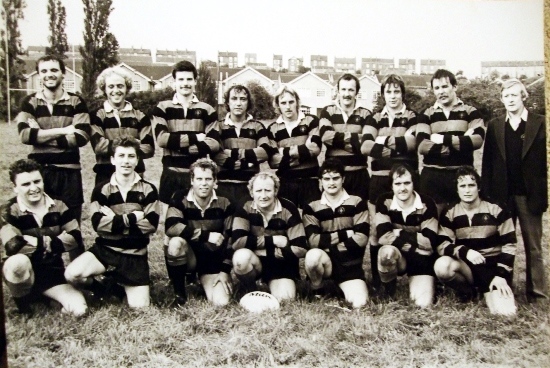 Stanley Rangers team, early 1980s
The team photo, with black and red jerseys, was taken in the early 80's on the old Rooks's Nest Road ground.
back row:
Paul Lawrence, Dave Morris, Grant Wilson, Steve Huntington, Brian Austerfield, Alan Madeley, Charlie Myton, Dave Sampson, and Peter Ashton (Open Age Administrator).

front row:
Barry Walker, Neil Ansell, Derek Vayro, Stuart Ansell, Daz Brown, George Dawson, and John Smith
With many thanks to Peter Ashton for providing the photos and information.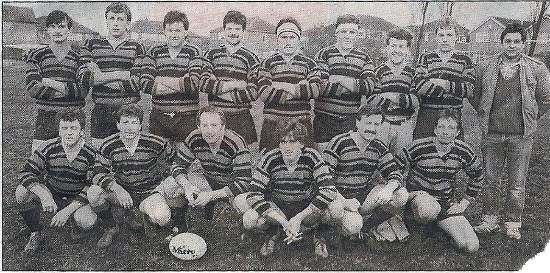 Stanley Rangers 1985
Back, Mark Oldroyd, Shane Oldroyd, John Holroyd, Grant Wilson, Gordon Hird, Adrian Hird, Bob Bartle, Tony Milner, Mick Millard.
Front, B Walker, N Ansell, Terry Crooke, Stan ?, Ken Lonsdale, Colin Smith.
(Tbanks to Peter Ashton for kindly providing the names of the players)
In the late 1980's, there was a split within the club which brought about the forming of the Stanley Rangers Old Boys open age team. What was left of the club went on to form a partnership with the local cricket club, Stanley Falcons, who between them went on to develop the facilities that are now in evidence on Lee Moor Road as Stanley Sports and Social Club.
1990s
In the 1997-98 season, negotiations started and Stanley Rangers and the Old Boys rejoined under the Head Coach, Dean Sampson. This made for one of the most successful seasons ever at Stanley, with a trophy haul of 15 cups and League titles between all the reformed club sides. The photo below shows the victorious Open Age team in the 1998-1999 season when they won the Wakefield Cup, beating Sharlston Rovers in the final. Coach Dean Sampson is first left on the back row.
Team: Back row L-R - Dean Sampson,??, Andy Brooke, Rob Neale, Craig Riley, Gary Hampshire, Karl Wiltshire, Mark Riley, Anthony Marsh, Billy Hillard?, Lee Sampson, Martin Rowley, Brian Gott Front Row L-R - Barry, Neil, Angelli, Gordon Lynch, Wayne Boardman, Simon Senkiw, Mark Colbeck, Richard Marsh, Dean Johnson,Dean Johnson, Dean Ledger, Paul Ledger,Danny Firth
2005
The club attained Sport England Clubmark status after a great deal of hard work and commitment by club officials, coaches and players.
2007
The progression is now coming to fruition with Stanley Rangers Open Age now having been accepted into the National Conference League, Division Two in 2007. With such a large selection of youth development to follow through to the open age group the future looks very rosy for the club.
2010
Paul Lord, Chairman, Stanley Rangers ARLFC, 2010

On 2nd April 2010, Stanley Ranges ARLFC were presented with their Clubmark Gold award at the Hearwell Stadium at the Wakefield Trinity Wildcats match against Castleford Tigers. The club has continued its accreditation since it first gained its Clubmark status in 2005.
In June 2010 there was great news for Stanley Rangers when, at the meeting of the National Conference League's AGM last Monday, the decision to promote the club to Division One for the 2010/2011 season was made. The NCL in the coming season will comprise 14 teams in both the Premier Division and Division One, with 12 in Divsion Two. Stanley, who came third in Division Two, are promoted along with champions Eccles and second place Oldham St. Annes. This means that Division One will contain Castleford Panthers; Eccles; Ince Rose Bridge; Milford Marlins; Millom; Myton Warriors; Normanton Knights; Oldham St Annes; Oulton Raiders; Rochdale Mayfield; Stanley Rangers; Stanningley; Thornhill Trojans and Widnes St. Marie's.
This is a fantastic achievment for the club who only entered the NCL in 2007. In fact, from the Archive News of the 2007/8 season, this is the first report from the season's News:
Stanley Rangers' first match in the National Conference League saw them beat Ovenden 20-18 in a tightly-fought match in September 2007. Thanks to all the spectators who turned out to give the team such support on this historic day. Kevin Ward, former GB prop, presented Richard Cattley with the Man of the Match award.
2011
Former Stanley Rangers players at the clubhouse, May 2011
A reunion evening was arranged for May 20th and over 60 ex Stanley Rangers players attended to a social evening of photos, films and reminisces. The club is currently in a search for the oldest living former player and hoping for any photos or information to be sent to the club at: stanleyrangers.aol.com
2012
Following on from the success of the reunion evening in May 2011, a second evening was held on April 27th 2012 at the clubhouse. Ex-players, players, coaches and friends enjoyed a convivial evening of reminisces and chat with each other. Thanks go to Les Starkey, Les Ellis and Barry Scales for their efforts in organising the event and to all who helped make it such an enjoyable evening.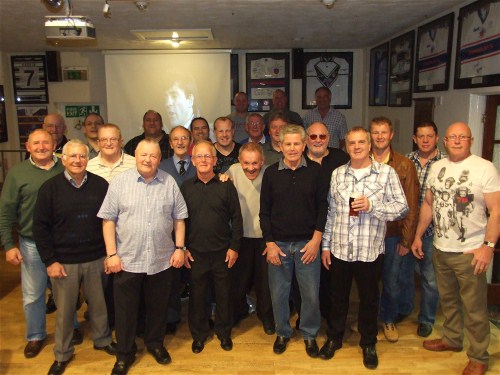 Former Stanley Rangers players at the clubhouse, April 2012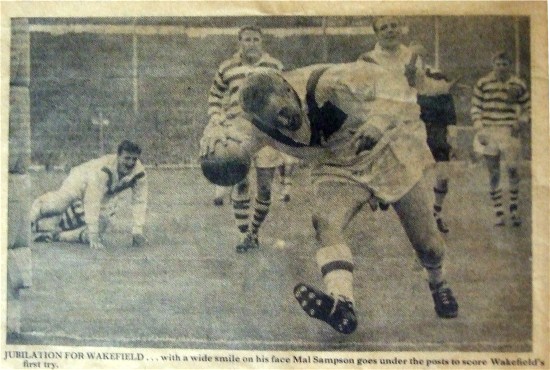 Malcolm Sampson scoring for Wakefield Trinity at Wembley, 1963
Tributes have been paid to former Wakefield Trinity, Bramley and Hull forward Malcolm Sampson who passed away on Wednesday 10th October.The 72-year-old remained the only Wakefield forward to score at Wembley after scoring in the club's Challenge Cup victory over Wigan in 1963. He was also a well-known builder in Stanley and a great supporter of Stanley Rangers. Mr Sampson has left behind his wife Avis, daughter Victoria, son Lee and four grandchildren.
(Photo: Rugby Leaguer, May 17th 1963)
2015
Stanley Rangers Open Age team 2014-15
2021
The 2020-2021 season was affected by the onset of the Covid-19 pandemic. Training and matches were hit by the lockdowns beginning in March 2020. Our junior and youth teams managed only a few games before they were all cancelled. In the summer, restrictions opened up enough for the teams to train in a very controlled and careful way, thanks to the hard work of the coaches, managers and parents and the teams themselves. Further restrictions at the end of the year meant that that training was suspended again. Finally by March 2021, national restrictions were lifted to allow grass roots sports to resume from March 29th. As with the autumn return, the club will have safety foremost and will take all precautions to keep players, staff and parents safe.
* More information on some of our players and team photos can also be found on the Stanleyhistoryonline website: https://m.stanleyhistoryonline.com/Sportsmen---Clubs.html
2022
The 2022-2023 season began after the hardships and restrictions of the Covid-19 pandemic during 2020 and 2021. The Open Age team were top of the Division Five North league in the Yorkshire Men's League in 2021 and are currently playing in Division Four. The club has worked hard to maintain and increase the number of junior and youth teams and now has a Masters team of older players.

Top of page