Stanley Rangers ARLFC Clubmark Evening, February 2006. David Sampson, Dean Sampson, Malcolm Sampson, Joe Sampson and Mick Hammond.
Malcolm Sampson scoring for Wakefield Trinity in the Challenge Cup Final, 1963
(Photo: Rugby Leaguer, May 17th 1963)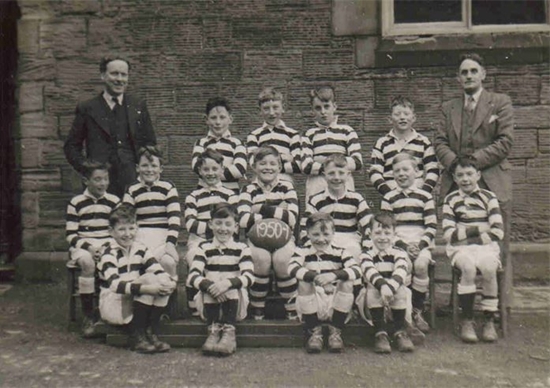 St Peters Junior School rugby team, 1950. Teacher Mr. Ramsden (back left), Headmaster Mr Ward (back right), Malcolm Sampson holding the ball
(Photo courtesy of Brian Robinson, Stanley History Online)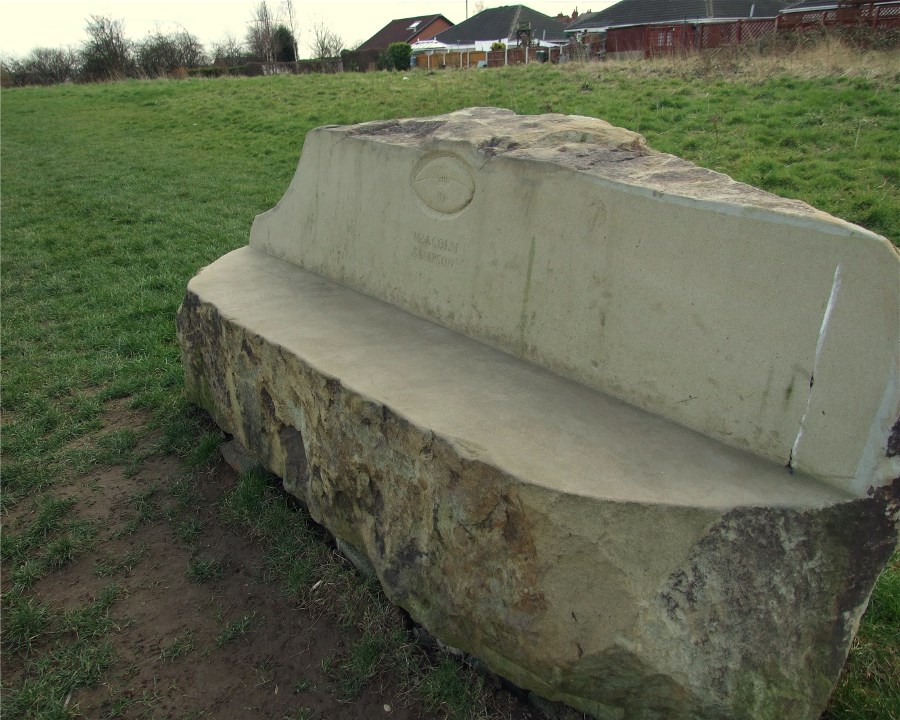 Bench in honour of Malcolm Sampson
Born on the 12th March 1940,Malcolm was one of seven children.
Malcolm's chosen sport was rugby league and he joined Wakefield Trinity Juniors in 1956, age 16, and made his Wakefield Trinity debut against Huddersfield in a 31-6 win at Belle Vue with the likes of Fox, Turner and Vines by his side. In his third game when Trinity beat the Australian Kangaroo Tourists 20-10 in 1959 he faced the might of the 1959 Kangaroos at Belle Vue - Provan, Rassmussen and the rest. He played 24 successive games upto April 1960 when he was involved in a car crash and suffered a badly broken arm. He missed the 1959-60 Challenge Cup Final and the possibility of playing for Great Britain in the 1960 Rugby League World Cup. Then followed almost three years of hard work as his arm was slow to heal.
He made his comeback at Widnes in early 1963 just in time for the cup run and his greatest memory was taking the field at Wembley and scoring his great try. His tussle with Wigan's international prop, Brian McTigue was legendary. In a talk with Wakefield Trinity Heritagehe said that he told everyone he scored the winning try that day, despite Trinity going into scoring 3 more in a 25-10 win. If anyone questions him, he says take it up with Derek Turner as he told him, 'that's the winning try, Young Sammy' as they left the field. To this day he is the only Trinity forward to score a try at Wembley. He earned the Wakefield Trinity Heritage number 660.
Malcolm had a four-game loan at Hull FC in 1964-1965. His last game for Trinity was against York at Belle Vue in November 1966 and he then signed for Bramley along with three other Wakefield players and played until 1972, a total of 281 games and scored 33 tries, including appearing in the famous BBC TV Floodlit Final win over Widnes in 1973.
In his life in Stanley,Malcolm was a well-known builder and a strong supporter of Stanley Rangers ARLFC. A family man, Malcolm left behind his wife Avis, daughter Victoria, son Lee and four grandchildren. He was the uncle of rugby league player Dean Sampson, sprinter Denise Ramsden and the rugby union and rugby league footballer Paul Sampson.
With grateful thanks to Wakefield Trinity Heritage for supplying the information for this article