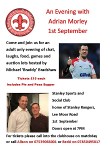 1st Sept
An adult-only evening of chat, laughs, food, games and auction lots with Adrian Morley, former Leeds, Sydney Roosters, Bradford Bulls, Warrington, Salford and England captain, hosted by Michael Bradshaw. Tickets are £15 each, including a pie and pea supper. Ring Becki on 07850 495017 or Alison on 07539 066001.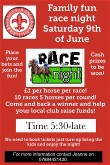 Family Fun Race NIght
9 June 2018
An evening for all the famiy is on Saturday 9th June with our Race Night. Beginning at 5-30pm at the clubhouse, No need to book, just turn up on the night. For more information contact Joanne on 07844 431420.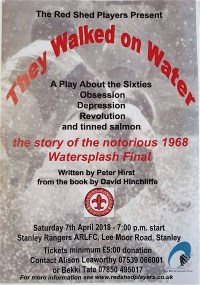 "They walked on Water"
7th April 208
Come along and reminisce and support the RFL Benevolent Fund. One of Rugby League's most iconic moments is to be re-enacted at Stanley Rangers clubhouse on 7th April. The 1968 'Watersplash' Challenge Cup Final between Wakefield Trinity and Leeds is the subject of the evening. The play "They walked on Water" taken from the book by David Hinchcliffe will be enacted by the Red Shed Players.