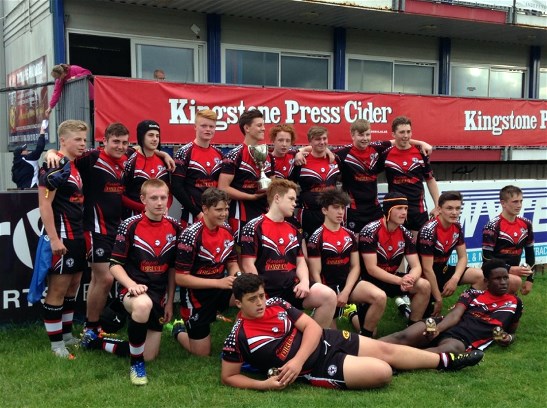 Wakefield & District ARL U15s Cup winners 2015
Coach:
Manager:
Sarah Trout
Fixtures, Results and Reports 2015/2016
Yorkshire Combination Youth League, Under 15s Division Two

Matches: Sunday morning, kick off 10.30am
Training: Tuesday and Friday 6.15-7.45pm at the club and Saturday mornings 10.30am at Lofthouse pit.
Sponsors: the Under 15s would like to thank their sponsors Carpet Direct Horbury and Mainstream Line Couriers for their generous support and sponsorship.
Season dates: the Fixtures table shows the pre-summer break results from March to July and the new fixtures beginning September 2015.

DATE

D

H/A

TEAM

FOR

AGAINST

MATCH REPORT

2015
September

06

A

Dewsbury Celtic (Friendly)

24

40

-

13

H

East Leeds (Friendy)

24

12

-

20

A

Skirlaugh Bulls (Friendly)

28

4

-

27

A

Stanningley

12

40

-

October

04

H

Dewsbury Celtic (Friendly)

50

10

-

11

A

East Leeds

24

16

-

18

H

Skirlaugh Bulls

-

-

nr

25

A

Oulton Vikings (Friendly)

-

-

nr

November

01

-

No fixture

-

-

-

BARLA Yorkshire Youth Cup U16s - 1st round bye

-

-

-

22

H

Siddal (BARLA Yorkshire Youth & Junior Cup, U16s - 2nd round)

22

16

-

December

20

H

Stanningley (BARLA Yorkshire Youth & Junior Cup, U16s - quarter final)

KO 11.30am

2016
January

10

A

Shaw Cross (BARLA Yorkshire Youth Cup U16s Semi Final)

---

March

08

H

Siddal Bulldogs

24

20

-

15

A

Shaw Cross Sharks

4

12

-

22

H

Hunslet Warriors

-

-

nr

29

A

Oulton Vikings (Preliminary Round, U15s Challenge Cup)

12

10

-

April

12

H

West Hull (U15s Challenge Cup)

10

36

-

19

A

Newsome Panthers

-

-

pp

26

A

Siddal Bulldogs

24

22

-

May

03

No fixture

-

-

-

10

H

Shaw Cross Sharks

30

16

-

17

A

Hunslet Warriors

22

12

-

31

A

Newsome Panthers

6

32

-

June

07

A

Oulton Vikings

4

22

-

14

H

Newsome Panthers

20

12

-

17

A

Eastmoor Dragons (Wakefield & District ARL U15s Cup Final at Rapid Solicitors Stadium, Kick off at 6pm)

30

16

Report and Photo

21

H

Oulton Vikings

18

36

-

28

H

Hunslet Warriors

28

8

-

July
Summer break

-

-

-
Yorkshire Juniors Under 15s Division Two
03.11.15
| | | | | | |
| --- | --- | --- | --- | --- | --- |
| DIVISION TWO | P | W | D | L | Pts |
| Oulton Vikings | 10 | 6 | 0 | 4 | 12 |
| Newsome Panthers | 10 | 6 | 0 | 4 | 12 |
| Stanley Rangers | 10 | 6 | 0 | 4 | 12 |
| Shaw Cross Sharks | 10 | 6 | 0 | 4 | 12 |
| Siddal Bulldogs | 10 | 5 | 0 | 5 | 10 |
| Hunslet Warriors | 10 | 1 | 0 | 9 | 2 |

Top of page
| | |
| --- | --- |
| DIVISION 2 | Pts |
| Millom | 32 |
| Featherstone Lions | 30 |
| Leigh East | 25 |
| Blackbrook | 19 |
| Underbank Rangers | 19 |
| Dewsbury Celtic | 17 |
| Bradford Dudley Hill | 16 |
| Askam | 12 |
| Stanley Rangers | 8 |
| Oldham St Annes | 2 |